North Shore Dance Studio along with the Company Dancers have been putting on annual benefit concert over the past 25 years. To date, the company has raised over $100,000 to provide to various charities including organizations for Alzheimer's, Strokes, Heart Disease, Susan G. Komen Breast Cancer Foundation, Multiple Sclerosis, The March of Dimes, and many more.
The dancers, teachers, and community come together to raise funds to help out friends, family, and organizations in need. The entire weekend is spent performing for a great cause. It really brings the NSDS dance family closer during these special weekends.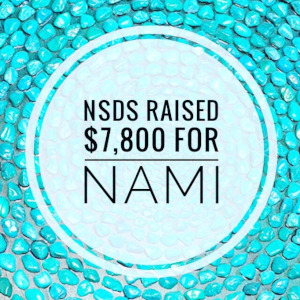 This year we are pleased to announce that we are donating to NAMI-Greater Milwaukee
We were able to donate $7,800 to NAMI!
NAMI stands for National Alliance on Mental Health. Proceeds will go to NAMI in efforts to help peer support, education and advocacy for all people effected by mental illness. 1 in 5 people experience a mental health condition every year. Early engagement and support are crucial to improving outcomes and increasing the promise of recovery.
The SILENT AUCTION brought in $3,735! 
The GRAND TOTAL of our Benefit Concert is coming soon!  A special thanks to Jill Kohli, Beth Heilmann, Buffy Zussman, and Dajen Bohacek and to everyone who placed a bid!
Past Benefit Concerts