All NSDS families will be enrolled in the Monthly Auto-Pay Program
Payments will be deducted during the first week of each month.
In case of any closures or cancellations, NSDS will complete the month via Zoom classes.
No credits or refunds will be given.
North Shore Dance Studio produces an annual spring recital "Dance to the Music", where students are given the opportunity to showcase their work on a big stage in front of family and friends!
North Shore Dance Studio's
35th Annual Recital!
ON THE FLOOR!
Homestead High School-PAC
Recital info listed below
Click here to download/print the schedule
Click here to see the Picture Day Schedule
Red Recital-Sunday, June 6th at 10:00
Red Dress Rehearsal-Saturay, June 5th at 10:00-10-45
Elementary Jazz/Hip-Hop-Monday 4:30-Miss Nicole
Dance Basics 6/7/8-Saturday 10:30-Miss Rebecca
Dance Basics 3/4/5-Saturday 9:30-Miss Rebecca
Mommy & Me-Tuesday 9:00-Miss Nicole
Dance Basics 6/7/8-Monday 5:30-Miss Jennifer
Company Trio-McGuire/David/Wood-Got It In You
Company Group-Labels Or Love
Orange Recital-Sunday, June 6th at 11:00
Orange Dress Rehearsal-Saturday, June 5th at 11:00-11:45
Dance Basics 5/6-Wednesday 5:30-Miss Katie
Dance Basics 6/7/8-Wednesday 4:30-Miss Taylor
Dance Basics 4/5-Wednesday 4:30-Miss Katie
Dance Basics 3/4-Wednesday 5:30-Miss Taylor
Dance Basics 4/5-Wednesday 2:00-Miss Katie
Company Tap Trio-Baby Workout
Company Contemporary Duet-Light Of Dusk
Yellow Recital-Sunday, June 6th at 12:00
Yellow Dress Rehearsal-Saturday, June 5th at 12:00-12:45
Shooting Stars Jazz-Tuesday 4:30-Miss Katie
Dance Basics 6/7-Thursday 4:30-Miss Amanda
Company Duet-Save Your Soul
Shooting Stars Lyrical- Tuesday 4:30-Miss Katie
Dance Basics 4/5-Tuesday 4:30-Miss Amanda
Company Contemporary-I Want You To Need Me
Dance Basics 5/6-Tuesday 5:30-Miss Amanda
Elementary Jazz/HH-Thursday 5:30-Miss Katie
Green Recital-Sunday, June 6th at 2:00 (YOUNG KIDS)
Green Dress Rehearsal-Saturday, June 5th at 2:00-3:15
Company dances that have already performed on stage at BEN CON or
competitions will NOT practice that dance at dress rehearsal.
Dress Rehearsal is only for BRAND NEW TO THE STAGE dances.
Ballet I-Tuesday 4:30-Miss Rachel
Ballet I/II-Thursday 6:30-Miss Itzel
Cosmo Ballet Co-Tuesday 6:30-Rachel
Comet Ballet Co-Tuesday 8:00-Miss Rachel
Ballet II-Tuesday 5:30-Miss Rachel
Ballet III-Tuesday 7:00-Miss Rachel
Cadette Lyricial-A Million Dreams-Miss Katie
Cadette Jazz-Conga-Miss Katie
Cosmo Lyrical-The Light-Miss Taylor
Cosmo Jazz-Let's Have A Kiki-Miss Katie
Cadette Tap/Tap I/II-Jump Shout Boogie-Monday 4:45-Miss Katie
Cosmo Tap-Baby Workout-Miss Katie
Cosmo Tap Switcheroo-Bandstand Boogie-Miss Katie
Cosmo HH-Girl Power-Miss Nicole
Cadette HH-Beat Bots-Miss Nicole
Cadette/Cosmo HH Production-Lean Back-Miss Katie
On The Floor-Blue Cast-Miss Katie
On The Floor-Silver Cast-Miss Katie
Cadette Tap/TapI/II Switcheroo-Get Up Offa That Thing-Miss Katie
Eclipse Jazz-Sissy That Walk-Miss Katie
Eclipse Contemporary-Man In The Mirror-Miss Katie
Senior Jazz-Good Luck-Miss Katie
Blue Recital-Sunday, June 6th at 3:30 (MEDIUM KIDS)
Blue Dress Rehearsal-Saturday, June 5th at 3:30-4:45
Company dances that have already performed on stage at BEN CON or
competitions will NOT practice that dance at dress rehearsal.
Dress Rehearsal is only for BRAND NEW TO THE STAGE dances.
Hip-Hop I/II/III-Thursday 4:30-Miss Lexi
Beginner Jazz/Contemporary-Thursday 6:45-Miss Amanda
Astro Ballet-Thursday 7:45-Odalisque-Miss Itzel
Comet Jazz-Bionic-Miss Meredith
Astro Jazz-Circus-Miss Meredith
Comet/Astro Jazz Switcheroo-Expensive-Miss Katie/Meredith
Astro Contemporary-Dress-Miss Katie
Comet Contemporary-Marathon-Miss Katie
Musical Theatre-Monday 7:30-Miss Nicole
Ballet III/IV-Monday 6:45-Miss Luz
Galaxy Ballet-Lacrimosa-Miss Katie
Comet HH-Que Calor-Miss Lexi
Astro HH-Money-Miss Lexi
Comet/Astro HH Production-Fancy-Miss Meredith
Comet Tap-Runaway Baby-Miss Katie
On The Floor-Blue Cast
On The Floor-Silver Cast
Grace Chen/Emily Pan Duet-The Battle-Miss Amanda
Orbit Ballet-Canon In D-Mr. Davit
Eclipse Contemporary-Man In The Mirror-Miss Katie
Senior Jazz Company-Good Luck-Miss Katie
Senior Contemporary Company-No Trace-Miss Katie
Eclipse Contmporary Switcheroo-Wait For It-Miss Katie
Purple Recital-Sunday, June 6th at 5:00-(OLD DANCERS)
Purple Dress Rehearsal-Saturday, June 5th at 5:00-6:00
Company dances that have already performed on stage at BEN CON or
competitions will NOT practice that dance at dress rehearsal.
Dress Rehearsal is only for BRAND NEW TO THE STAGE dances.
Christina Wood Solo
Molly Ahyun Solo
Lauren Andersen Solo
Senior Ballet-Vivaldi's Storm- Mr. Davit
Junior Ballet-The Cello Song-Mr. Davit
Eclipse Ballet-Albinoni-Mr. Denis
Senior Jazz-Good Luck-Miss Katie
Junior Jazz-Diamonds-Miss Meredith
Eclipse Jazz-Sissy That Walk-Miss Katie
Orbit Jazz-Mission Impossible-Miss Mereidth
Senior Contemporary-No Trace-Miss Katie
Junior Contemporary -In This Shirt-Miss Katie
Eclipse Contemporary-Man In The Mirror-Miss Katie
Orbit Contemporary-All I Want-Miss Katie
Contemporary Production-No Bravery-Miss Katie
Jazz Switcheroo-Hip To Be Square-Miss Katie
Senior Contempory--Team Shannen
Senior Contemprary-Team Summy
Orbit Contemporary Switcheroo-To Build A Home-Miss Katie
Junior Contemporary Switcheroo-NAME-Miss Katie
Senior HH-Roar-Mr. Jasper
Ballet V/VI-Wednesday 6:45-Mr. Davit
On The Floor Blue Clast
On The Floor Silver Cast
Eclipse Contemporary Switcheroo-Wait For It-Miss Katie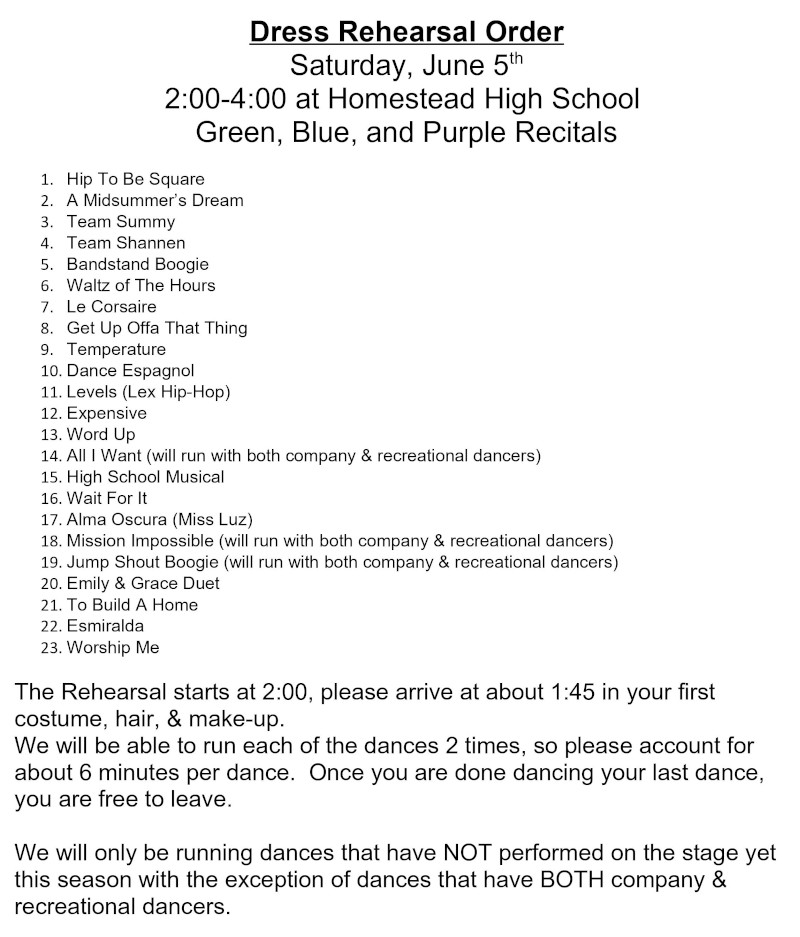 Recital Dates
Click here to download/print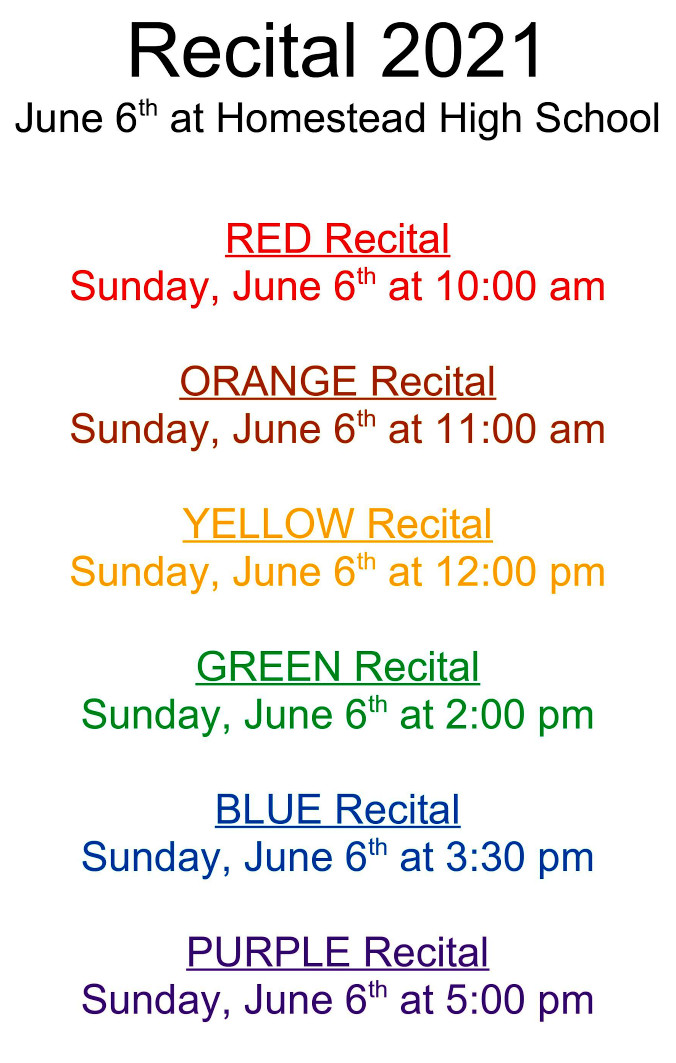 2021 Recital Picture Day Schedule