Though we currently do not offer online registration, registering for classes at North Shore Dance Studio is easy!
Simply download and print the registration form (below), then deliver the completed form to the studio office: 10433 N. Baehr Road, Mequon, WI 53092.
You may also send in your completed form via email.
2019-2020 Class Schedule
Click here to download/print the 2019-2020 Class Schedule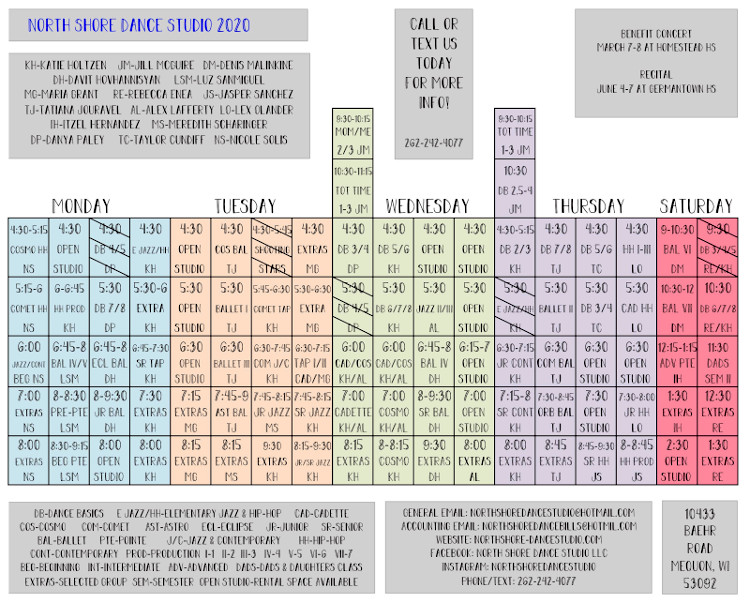 Tell Your Friends & Spread the Word

REGISTRATION POLICIES
North Shore Dance Studio DOES NOT charge a registration fee.
When completing the form, enter the names of all desired class(es), then total the number of dance hours per week.
Please include payment for Semester 1 tuition*, which is based on the total number of dance hours per week.
If you wish to be a part of The Nutcracker production, please also include a $70 participation fee. This fee includes your Nutcracker costume, rehearsal fees, dress rehearsals and props. Click here for more information.
NSDS accepts cash, checks or credit cards.
Regardless of the payment method used for registration, NSDS requires that a valid credit card be kept on file.
Refunds are only given if the studio is unable to place a child in class, if the family has moved, or if there is an illness or injury requiring withdrawal. Please see studio Rates and Policies for more information.
WELCOME TO NORTH SHORE DANCE STUDIO
We are thrilled to have you with us for the dance season. Some of you may be new to the dance scene while others may have been around the block once or twice. Either way, we want everyone to be in the loop at NSDS.
Click here for some helpful tips and bits of information to help you during the upcoming dance season